The Thermonuclear smoke devil, also known as "Thermy" is one of Runescape's many slayer bosses, it makes up a more challenging version of the Smoke Devil. Other slayer bosses include the likes of Kraken, Cerberus, Grotesque Guardians, Hydra and Abyssal Sire. Thermy requires a slayer level of 93 before it can be damaged. The level can not be boosted as a Smoke Devil task is required to kill them, which is only unlocked at 93.
How to get to Thermy in OSRS?
Thermy is located in the Smoke Devil Dungeon. A Slayer Mask or Face Mask is required to enter the Dungeon. To reach the Dungeon do the following:
Fairy rings code B-K-P then run north east to the entrance of the Dungeon.
Teleport to Castle wars and run south-west until you reach the entrance of the Smoke Devil Dungeon.
Once at the Dungeon entrance, go through then run north west to the Thermonuclear smoke devil room entrance.
Thermonuclear Smoke Devil Gear Setups
Melee Setup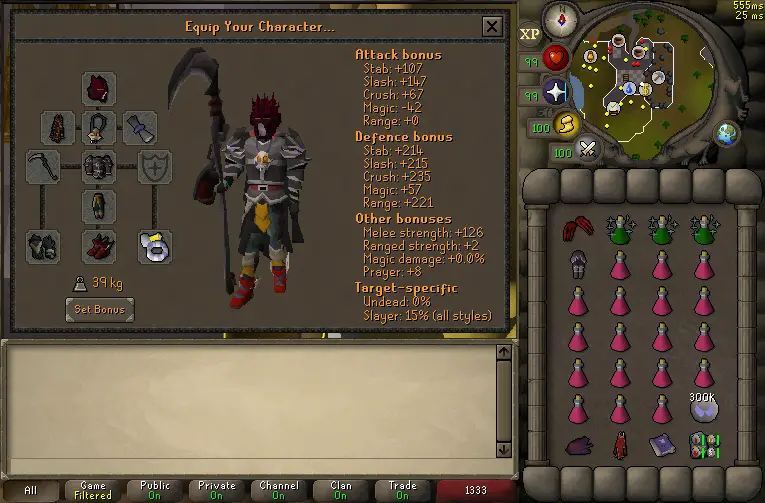 Mage Setup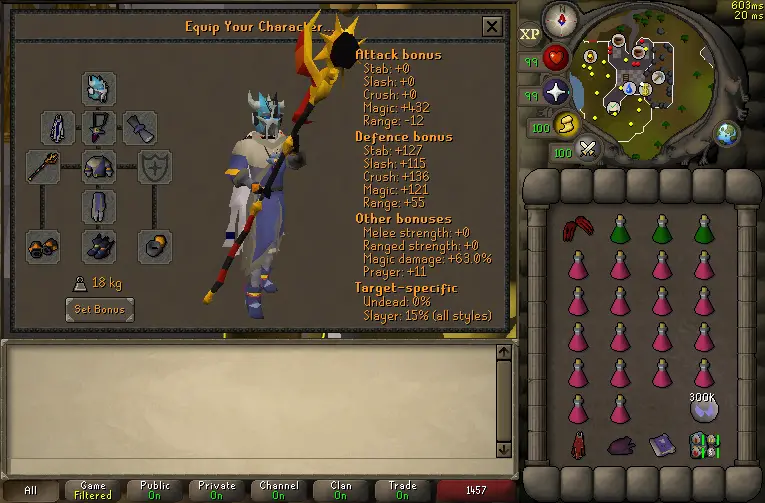 Both setups 100+ kills per hour.
Do not teleport to POH between kills. It is significantly slower on average.
Arceuus spellbook for Thralls.
Mechanics
The thermonuclear smoke devil only has one attack, which is a typeless magical ranged attack. This means:
Protection prayers have no effect.
Accuracy of the attack based on the ranged attack bonuses of Thermy and the magical defence bonuses of the player.
Max hit of attack is 8 (can never die if redemption prayer is active).
Attack range of 8 tiles, attack speed of 2 ticks.
How to kill Thermy?
Players with the redemption prayer can use this as a way of consistently restoring hitpoints at Thermy. Due to thermy only having a max hit of 8, so long as the prayer is active, the player will always active redemption when falling below 10 hp. Restoring their hp back up, once activated the player will need to sip a prayer or super restore dose and re-activate the prayer (using quick-prayers ideally).
Walk-Under Method
Since the player attacks far slower than the thermonuclear smoke devil. Walking under the boss while your weapon is on cooldown can negate some of the damage the boss deals. Without this method the boss can deal between 2 and 2.5 attacks for every 1 attack you do. Therefore, the method can reduce damage up to 60%.
Below is a video example of what to do:
Thermonuclear smoke devil FAQs
Below are a list of the most frequently asked questions for people new to killing Thermy in osrs.
Best slayer master for Smoke Devils?
Duradel is the best slayer master for Smoke Devil tasks. They have a weight of 9 on his task list, in comparison to Nieve/Steve who only assigns them at a weighting of 7. He also assigns slightly more on average per task.
Can you boost to kill Thermonuclear Smoke Devil?
No, you can not boost to kill this monster. You must have a slayer level of 93 and assigned a Smoke Devil task.
Can you kill Smoke Devils on Dust Devil task?
No, Smoke Devils do not count for Dust Devil tasks. You must be assigned a Smoke Devil task.