Skotizo is one of Oldschool Runescapes demonic bosses. He can be found in his lair beneath the Catacombs of Kourend. Accessing this lair will require the use of a fully complete dark totem.
The fight is very simplistic and easy to learn. Making it a great elementary level boss for those new to pvm or with lower stats. Its difficulty level is similar to that of the KBD, Giant Mole, Dagannoth Kings and Sarachnis
How to get to Skotizo in OSRS?
Use a dark totem on the altar found in the centre of the Catacombs of Kourend to enter his lair. The fastest way to reach the centre of the Catacombs is by the following methods:
Xeric's Talisman to teleport to "Xeric's Heart"
Use the Kourend Castle Teleport spell
Portal Nexus Kourend Castle teleport in the POH
Skotizo Gear Setup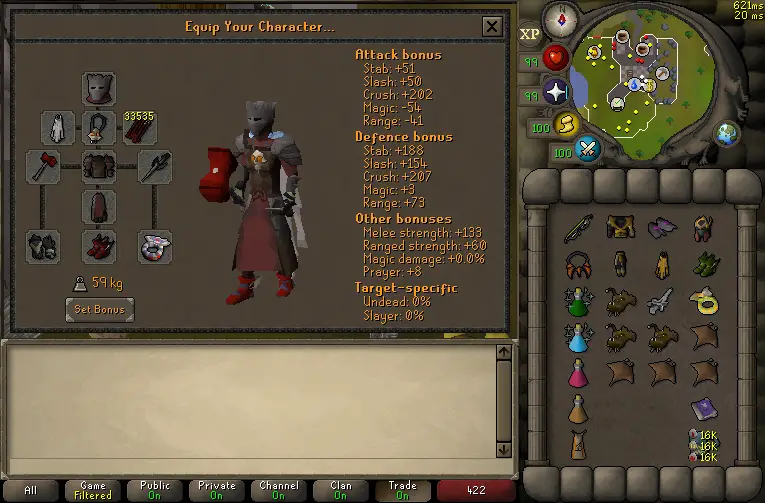 How to kill Skotizo
Use special attacks at start of the fight.
Stand out of melee range and begin to attack with twisted bow. Using protect from magic. If you are using a budget setup, camping the Arclight is recommended, if so, pray protect from melee in melee range.
in the top right you will be able to see if Skotizo activates any of his altars. If multiple are activated at once he will take reduced damage. These can be one hit with arclight, go to attack them if 2 or more are active.
Example Kill
Skotizo FAQs
Below is some of the most frequently asked questions by players looking to kill Skotizo for the first time.
Can you kill Skotizo on greater demon task?
Skotizo can be killed on Greater Demon and Black Demon tasks to get the slayer bonuses.
Will Skotizo respawn?
No, you can only kill Skotizo once per dark totem.
How rare is Skotizo pet?
Skotizo pet is 1/65, making it one of the easier pets to obtain in osrs.