The Orange Salamander is the third strongest type of Salamander. It is stronger than the Swamp Lizard, but weaker than the Red and Black Salamander. They are found specifically in desert areas and when captured reward the player with 224 hunter experience.
Successfully capturing an orange salamander is a task in the medium desert diary.
Requirements to catch Orange Salamanders?
Requirements

47 Hunter
Small Fishing Net
Rope
Recommended

Stamina Potions
Waterskins or a method of protection from the desert heat
Humidify runes if using waterskins
Where to catch Orange Salamanders?
The Orange Salamander can be found in the Uzer Hunter area and the Necropolis Hunter area. It is recommended to use the Uzer Hunter area as it has almost double the amount of Orange Salamander spawns. The fastest methods of reaching this area include:
Go through the Shantay Pass then travel east across the River Elid via the bridge.
Magic Carpet to the Ruins of Uzer then run west.
Desert amulet 4s teleport and run south-east.
Fairy rings code D-L-Q then run north.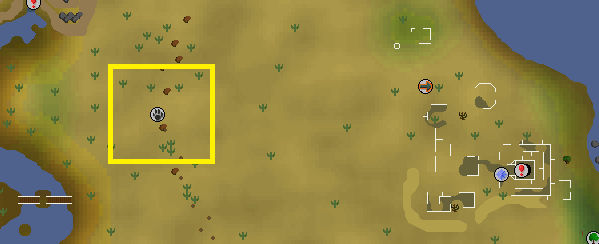 Catch Rate
At level 47 hunter when first using this method you can expect a catch chance of around 56%. This gradually scales up as your level increases. Before eventually hitting a 100% catch rate at level 88 hunter.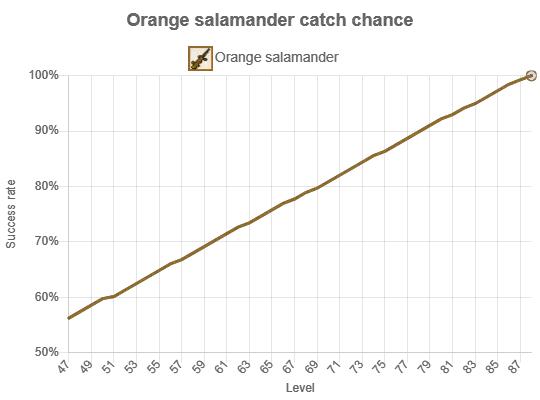 Orange Salamander Experience Rates
At level 47 hunter, players can expect around 40,000 hunter experience per hour with Orange Salamanders. This will scale up to around 50,000 experience per hour at level 59. It is advised to stop and move onto Red Salamanders at level 60, as they provide higher experience rates.
While Orange Salamanders do provide less hourly experience than methods such as Falconry, Orange Salamanders are often preferred as Falconry can be very click intensive.