The Masori Armour set is currently the most powerful ranged armour set in the game. It requires a minimum of level 80 ranged and 30 defence to wear. The armour can be obtained as a rare drop from the Tombs of Amascut.
Masori comes initially in an unfortified version. It can be upgrade to a fortified version, but requires armadyl plates to do so, this will increase its defensive stats and requires 80 defence to wear the fortified version. The armadyl plates can be obtained by dismantling armadyl chainskirts and chestplates from Kree'arra.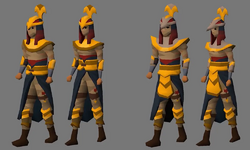 Masori Stats
As previously mentioned, the Masori armour set provides the highest offensive bonus to the range skill currently in the game. Its unfortified version provides the same level of offensive bonuses. However, the fortified version has more defensive and prayer bonuses. You can see the breakdown for both variants below.


Does Masori have a set bonus?
No, currently the Masori armour set does not have a set bonus when worn.
How much does Masori Armour cost?
Currently, as of the beginning of 2023, Masori costs around 200-300m for the full set. Depending on if you are buying the fortified or unfortified version. You can see the daily prices by visiting the Grand Exchange.