The Kalphite Queen, also known as "KQ", is one of Runescapes oldest bosses. It is known for dropping the iconic Dragon Chainbody, along with other monsters such as Smoke Devils. Killing her is required for the Desert hard diary, in addition, players must talk to her mounted head as a requirement for the elite Desert diary.
Her mechanics are relatively simplistic. However, similar to bosses such as the Corporeal Beast, the KQ can out-put a lot of unavoidable damage, making trips fairly short.
How to get to the Kalphite Queen in OSRS?
The Kalphite Queen is located at the end of the Kalphite Lair. If you want to kill this monster long-term it is highly recommended to complete the Desert Diary for a shortcut from the lair's entrance to the Queen's Chamber.
The entrance to the lair is located west of the Shantay Pass. The fastest way to reach it is with fairy ring code B-I-Q. Alternatively you can use a glory teleport to Al-kharid or dueling ring teleport to Duel Arena then run to Shantay Pass and go west.
Once in the lair, if you have not completed the diary you will need to follow the tunnel to the Queen's Chamber entrance. The map is shown below.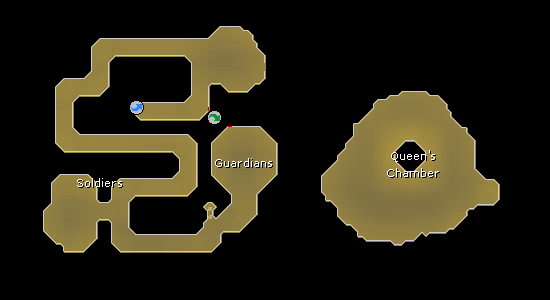 Kalphite Queen Gear Setup
Max Gear Setup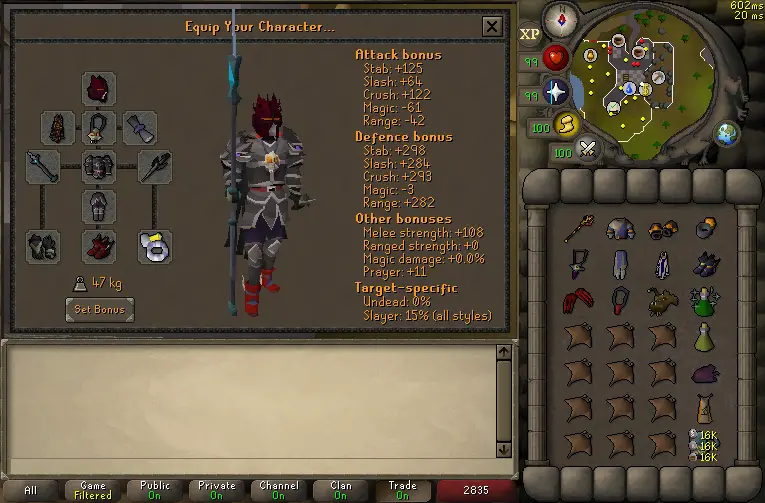 Mid-tier Setup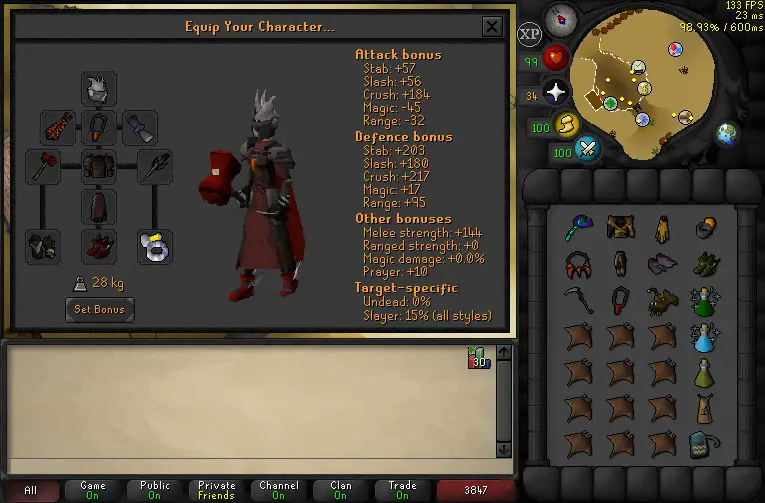 How to kill the Kalphite Queen
Sip antidote++ at start of fight.
Use protect from magic while standing in melee distance both phases.
Attack with Melee during phase 1 and use tumekens shadow for phase 2. If you don't own a shadow then blowpipe her during phase 2.
Walk under KQ during actions (while eating, between hits & phase transitions) to avoid tanking unnecessary damage.
Kalphite Queen FAQs
Below is some of the most frequently asked questions by players looking to kill the Kalphite Queen for the first time.
How rare is KQ pet?
The Kalphite Queen pet is dropped at a rate of 1/3,000.
How to get a KQ head?
The Kalphite Queen drops the KQ head at a drop rate of 1/128. However, on a players 256th KQ kill, they will receive a guaranteed tatter KQ head. This can be taken to the Taxidermist in Canafis to be stuffed and then mounted in the PoH. Allowing players to complete a task on the Desert elite diary.
Where do you mount KQ head?
A mounted kalphite queen head can be built and placed in the head trophy space. Located in the Skill Hall of a player-owned house.