Guardians are a combat room found in raids 1. In this room you will find a pair of statues guardian the entrance to the next room. Attempting to enter the passage, will result in the guardian knocking the player back and dealing damage to them. The Guardians are immune from all types of damage that is not a pickaxe.
Gear Setups for Guardians
Guardians are can only be killed with damage dealt directly from a Pickaxe. They are immune to all other forms of damage. Therefore, your highest tiered pickaxe (Dragon) should be used, alongside your best strength boosting gear. Below is some gear setups for different levels of wealth.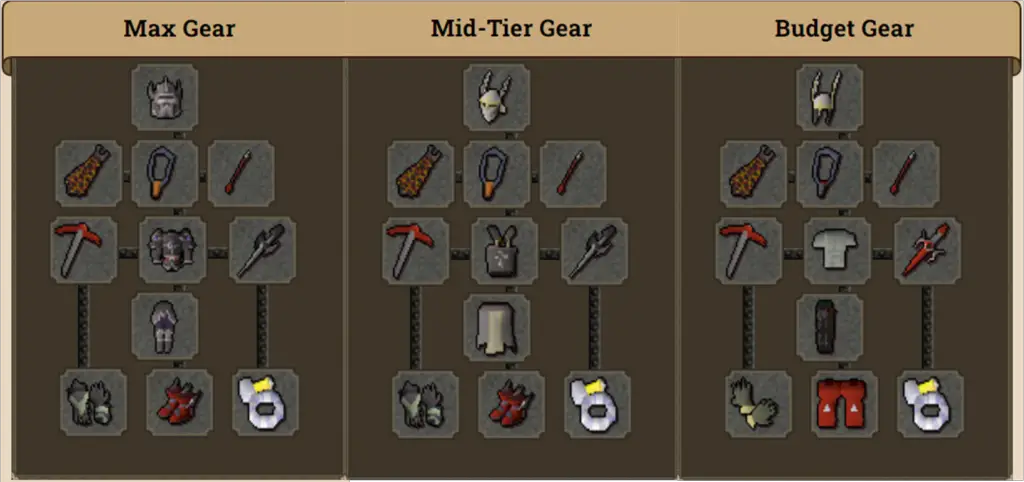 How to complete the Guardians Room?
Guardians attack with a melee attack and a 3×3 AoE attack. The AoE attack will see the guardian stomp on the ground, causing rocks to fall from above down on the players location in a 3×3 zone. For this reason, flinching is advised, when you enter the room follow this procedure:
Pray piety and drink a super combat.
Attack a guardian then immediately move back to avoid its attacks.
Wait until your weapon is off-cooldown. 5 ticks for all pickaxes.
Then attack again.
Repeat this until both Guardians are dead.
Progress to the next room, pick up seeds if you have space and will later need them.