The Graceful outfit is a set of weight-reducing gear that is obtainable through training the Agility skill. Each item of Graceful clothing can be bought in the Rogues' Den beneath Burnthorpe, in exchange for Marks of Grace. The Marks are collected when training agility on Rooftop Agility Courses.

How to get the Graceful set?
In total players will need 260 marks of grace to pay for the entire set. These are only obtainable by running laps on rooftop courses. On average if using rooftops from level 1 agility, without any other sources of agility experience, players should expect to have the set by around level 53. Having this set as early as possible is important to most accounts, specifically ironmen.
Rooftop courses that spawn Marks of Grace
In total there are currently nine rooftop agility courses in osrs, these include:
Falador Rooftop Course
Seers' Village Rooftop Course
Pollnivneach Rooftop Course
Rellekka Rooftop Course
Ardougne Rooftop Course
Marks of Grace per hour
Ardougne rooftop course is unquestionably the best place to get marks of grace, with an average of around 17 marks per hour, scaling to 22 with the Elite Ardougne diary. Canifis also has an average of around 17 marks per hour, although does not have a way of reaching higher averages like Ardougne.
Additionally, if your agility level is more than 20 levels above the course requirement, it will significantly reduce the number of Marks you can receive. Meaning Canifis wont be the best option in the long run if you need more marks between levels 60-90.
Rellekka is the third best, with around 14 marks per hour. All other courses can be found averaging around 11-13 marks of grace. Seers' Village averages around 12 marks an hour, but this also has a diary boost that scales it up to 14, 15 and 17 per hour with the different Kandarin diary tiers.
Cost to buy Graceful
260 Marks of grace is the total cost to buy the entire graceful set. Although, some items are more expensive than others. The hood costs 35, top costs 55, legs cost 60, gloves are 30, finally the boots and cape both cost 40 each.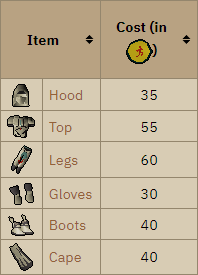 Graceful recolouring
In total there are nine different graceful re-colours you can pick from. Five of these are tied to the city of Great Kourend. Once players have obtained 100% favour in a city they can take their graceful set along with 90 additional marks of Grace to Osten to have it recoloured. Each colour represents each city, light blue for Piscarilius, purple for Arceuus, red for Shayzien and orange for Lovakengj. The final set is a white colour, which represents Great Kourend as a whole and requires 100% favour in all 4 houses.
The other four recolours come from other random activities in osrs. A dark blue coloured set can be obtained with 250 agility arena tickets from the Brimhaven course by talking to Pirate Jackie the Fruit.
A black graceful set can be obtained by using a dark dye on the outfit. This is obtained for 1,800 hallowed marks from the Hallowed Sepulchre.
An adventurer's styled graceful outfit can be obtained for 1,800 quest speedrunning points. This is styled on the appearance of the Quest Point Cape. Finally, the Trailblazer Graceful set can be obtained by using Trailblazer ornament kits on the set. These can be bought for 6000 league points in the rewards shop or be bought on the Grand Exchange.