The Construction skill gives you the ability to create your own player owned house in OSRS. Which offers a vast amount of utility, particularly when it comes to getting around the Oldschool map. As your PoH can be home to many many teleports, thanks to the Portal Nexus and Jewellery Box. If you want to play the game efficiency then you should realise the importance of an efficient PoH, that allows you to reach the most used areas fast. Additionally, small PoH's (in a 3×3 layout) will load the area faster. This is particularly good for doing methods such as speccing down Corporeal Beast, where you need to constantly get your spec back from the PoH.
Layout
The most optimal layout settings is to follow a 3×3 structure. To do this reasonably it will require a Portal Nexus (92 construction, but boost-able from level 84). Without it you will need to do a 4×4 or sacrifice some of the less important teleport destinations, by reducing the number of portal chambers.
The most efficient PoH layout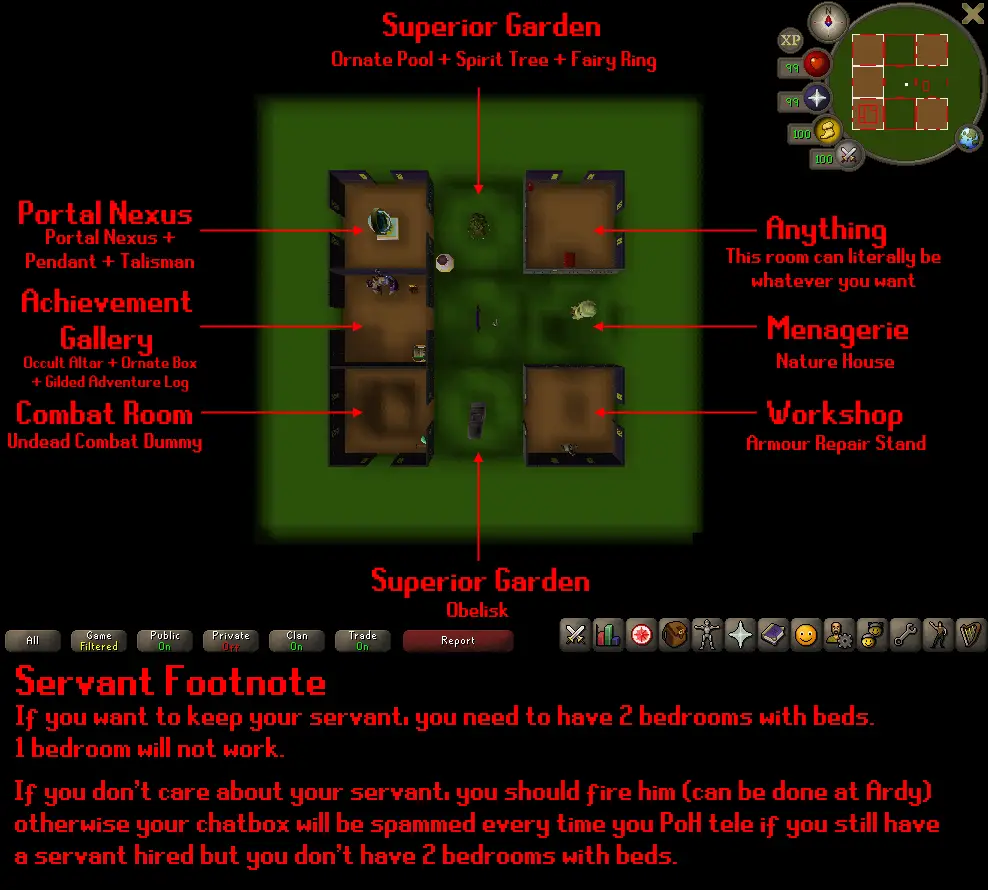 Fastest Loading Times
As previously mentioned, you want to reduce the amount of loading time your PoH has. To make activities involving the PoH far more efficient. To do this you will need to ensure the following steps are all followed:
Only one floor in the house – delete your dungeon and upper floor.
Room layout should be 3×3 with most useful rooms. 2×2 and 4×4 will work, but its not necessary to go as big as 4×4 with the Portal Nexus and a 2×2 may be too small, for no additional speed benefit.
Portal should be in the center of the PoH layout.
Organise your PoH to get a 1 tile border of green around your house. Shown in the image below.