The Rich Chests in the city of Dorgesh-Kaan can be picklocked and looted for competitive thieving experience rates. In addition to consistent profit, as each chest has its own loot table, mainly consisting of uncut gems. Each chest requires 78 thieving to open and grants 650 thieving experience per loot. The chests have a very long respawn time, they take 5 minutes (or 300 seconds) to respawn. Meaning for this method to be efficient you need to hop worlds relatively often.
Where do you picklock Rich Chests?
Dorgesh-Kaan is an underground city, belonging to the Goblin race, specifically the Dorgeshuun tribe. The city is accessible via the Lumbridge Castle and Keldagrim minecart system. Although, players will have to have completed the quest Death to the Dorgeshuun before they can get access to the city. The fastest transportation methods to the city include:
Dorgesh-Kaan Sphere to one-click teleport to the city.
Fairy ring code A-J-Q and run north-west then up the ladders. A light-source is recommended when travelling with this method.
Enter the crack in the Lumbridge Castle cellar (east wall). Travel with Kazgar and then run south to the Dorgesh-Kaan entrance.
The Rich Chests are found in three spawn locations on the 1st floor. With a further 5 spawn locations on the 2nd floor of the city. They can be found on the map below where you see a red dot on the map.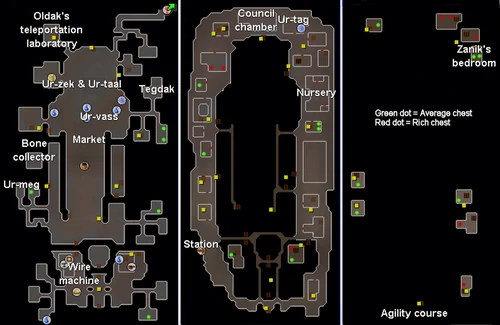 Average Rich Chest loot
Each chest is worth a little less than 1,000 gp on average. With the main bulk of the profits coming from expensive uncut gems such as the uncut diamond, red topaz and ruby. The Cave Goblin wire and bullseye lanterns are also worth banking. On average you can open around 330 chests with some concentration. Meaning you can expect around 300k gp per hour using this method.