This guide is focused specifically on the Lizardman Shamans found in the Chambers of Xeric. Since they are found within a raid, they do not require Shayzien house favour to kill. They also do not drop any tradeable items other than big bones.
However, many of the same mechanics apply, Shamans can jump, fire poison blobs and spawn minions in CoX. There poison blob attack is around 25% stronger, which is a problem as its not feasible to bring Shayzien armour in for protection. Therefore, longranged weapons such as the Twisted Bow and Crossbows are great for attacking at a distance making blobs easier to dodge.
Gear Setups for Lizardman Shamans
Ranged is the best DPS for killing shamans. With the Twisted Bow being the primary weapon, scaling down to crossbows on more budget builds. Lizardmen tasks do work here, so if you do have a lizardman slayer task then you can replace any of the helmets below with a slayer helmet(i).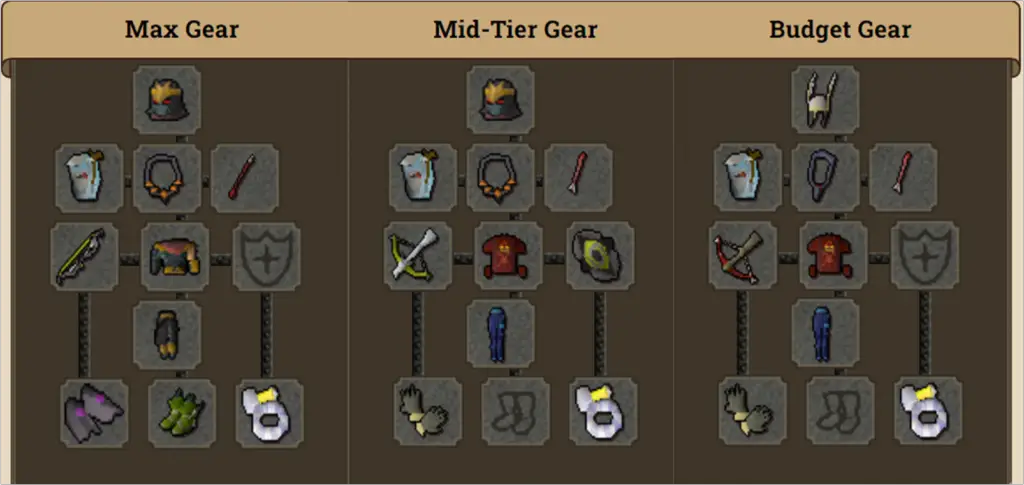 How to complete the Shamans Room?
Sip your ranging potion and enter the room.
Pray protect from missiles and rigour while attacking a shaman.
Focus one shaman, while hugging the walls to avoid it jumping.
Move out of the way of any poison blob AoE attacks.
When the first shaman dies, move onto attacking the next one until they all die.
If at any point you are poisoned, sip your sanfew serum (Serp helm users will be immune to poison).