The Chaos Fanatic is one of 2007 Runescapes wilderness bosses. He is most often fought for the chance at receiving Odium and/or Malediction Shards. He drops one of the three shards required to complete each of the Wards. The other two shards coming from the Crazy Archaeologist and Scorpia.
How to get to Chaos Fanatic in OSRS?
Chaos Fanatic is located west of the Lava Maze and slightly north-east of the Chaos Temple Altar. The fastest methods to reach the area are:
Ghorrock Teleport.
Burning amulet to the lava maze and run west.
PoH obelisk to level 44 wilderness with Wilderness hard diary complete.
Chaos Fanatic Gear Setup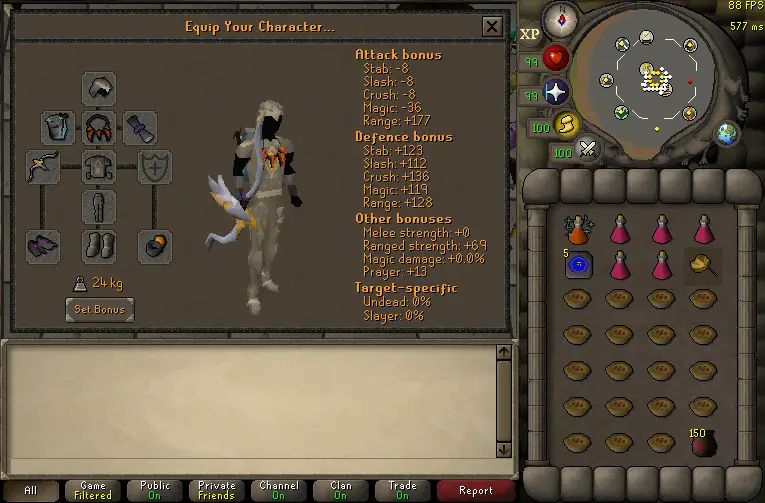 How to kill the Chaos Fanatic
Pray protect from magic at all times. In addition to, protect item if 4-iteming.
Ensure the inventory is always full, as similar to the Chaos Elemental, he will unequip items if there are any empty inventory spots.
He will launch a special attack that appears as a green magical attack. To avoid it simply move out of the way of where it will land.
Chaos Fanatic FAQs
Below is some of the most frequently asked questions by players looking to kill the Chaos Fanatic for the first time.
Recommended Stats for Chaos Fanatic?
Level 60+ ranged is recommended for the Craws Bow. With level 37+ prayer as a minimum for protect from magic. However, those with high combat stats will have an advantage, due to the active threat of pkers.
Can you cannon Chaos Fanatic?
Yes, you can cannon Chaos Fanatic and at most places in the wilderness. However, until the cannon is placed you may be at risk of losing it. Additionally, your cannonballs will be at risk while fighting in the area if another player is to kill you.
Does Chaos Fanatic drop pet?
The Chaos Fanatic drops the Chaos Elemental pet. However, it is obtained at a far rarer rate of 1/1,000. As opposed to Chaos Elementals 1/300 drop rate at the main boss.