The Angler's Outfit is a unique set of clothing designed to boost your fishing prowess in OSRS. It consists of five individual pieces: the Angler Hat, Angler Top, Angler Waders, Angler Boots, and Angler Gloves. When worn together as a full set, these items provide a series of notable advantages for players engaged in fishing activities.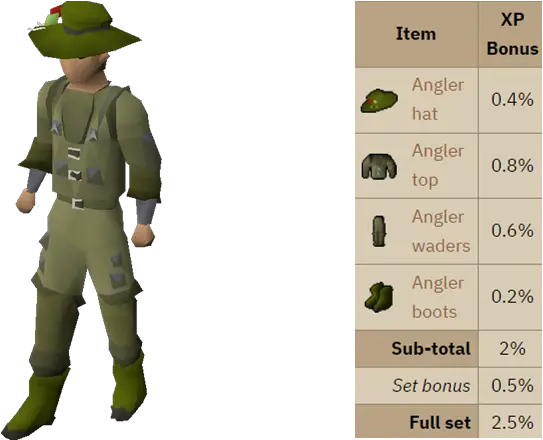 Experience Boost
One of the most significant advantages of wearing the Angler's Outfit is the experience boost it provides. When you have the entire set equipped, you'll receive a 2.5% bonus to your Fishing experience gained. This can substantially speed up your leveling progress, making it an invaluable asset for players aiming to reach higher Fishing levels efficiently.
Extra Catch Rate
In addition to the experience boost, the Angler's Outfit also offers a 0.5% increase in your catch rate while fishing. This means you'll catch fish more frequently, resulting in increased profit and faster progression through the Fishing skill.
Repairable
Unlike many other equipment sets in OSRS, the Angler's Outfit is repairable. Over time, as you use it for fishing activities, it will degrade. However, you can easily repair it by visiting the NPC "Perdu" in Lumbridge for a small fee. This ensures that your investment in the outfit remains beneficial for the long term.
How to Obtain the Angler's Outfit
Acquiring the Angler's Outfit requires a combination of dedication and patience. Here's a breakdown of the steps to obtain this coveted fishing gear:
Complete the Fishing Trawler Mini-Game: The Angler's Outfit pieces are rewards from the Fishing Trawler mini-game. To participate, you must have a Fishing level of 15 or higher. The mini-game takes place on the trawler ship in Port Khazard, and your goal is to repair and operate the ship to catch fish. The better your performance, the more chances you have to receive pieces of the outfit as a reward.
Exchange Reward Points: After a successful game of Fishing Trawler, you'll earn points based on your contribution to the team's success. You can exchange these points for pieces of the Angler's Outfit by speaking to the Fisherman on the ship. It may take several rounds of the mini-game to complete the full set, as the outfit pieces are rewarded randomly.