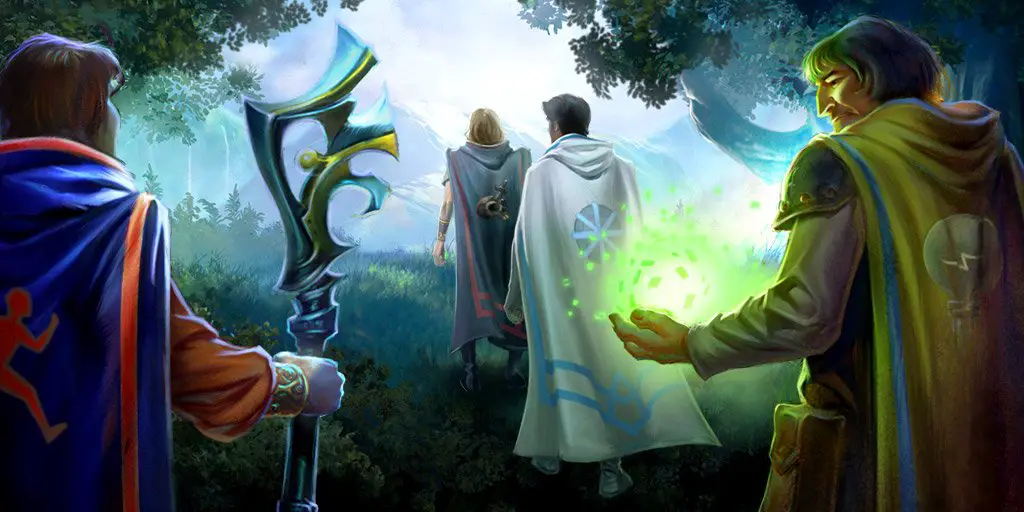 This guide from BestOSRSGuides will show you the quickest viable method to achieve 99 crafting in OSRS. Additionally, we will provide you with some strong alternatives to training the skill later on.
Fastest Crafting Experience
Leather Items: level 1 – 20
Crafting the highest-level leather item will provide the best available experience rates from 1 to 20 in osrs. It is cheap, requiring each item requires one leather to craft. You will also require a needle and some thread.

Cutting Gems: level 20 – 54
Cutting gems in OSRS offers the fastest experience from level 20 onwards. The experience rates can be seen in the table below. While you can cut Dragonstone at 55, it is not recommended, as the cost makes it unviable for most players.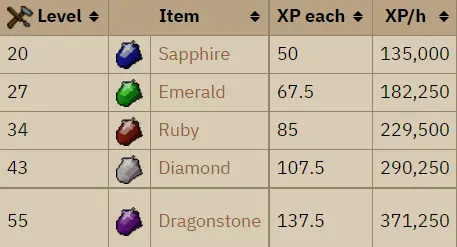 Battlestaves: level 54 – 77/99
Battlestaves offers some of the fastest experience in game, at a viable price point. Once you reach 77 it becomes faster exp to craft d'hide bodies, however, it is more expensive. Making air battlestaves a strong cheaper alternative to 99 crafting in OSRS.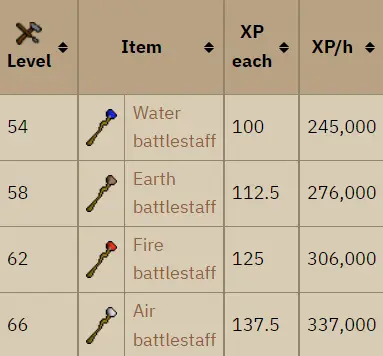 Dragon Hide Bodies: level 77 – 99
Crafting red d'hide bodies at 77 and then black d'hide bodies at level 84 becomes the fastest viable method to 99 crafting. Experience rates can be found in the table below.
Alternative Crafting Methods in OSRS
There are some other methods players may choose to use for various reasons. Including affordability and afk-ability.
Molten Glass: level 1 – 99
Players can use a glassblowing pipe and molten glass to craft items at various levels. This method is very cost efficient and often chosen due to its low levels of effort required. Each glass item is made every 3 game ticks, resulting in an inventory of 27 taking approximately 49 seconds to blow.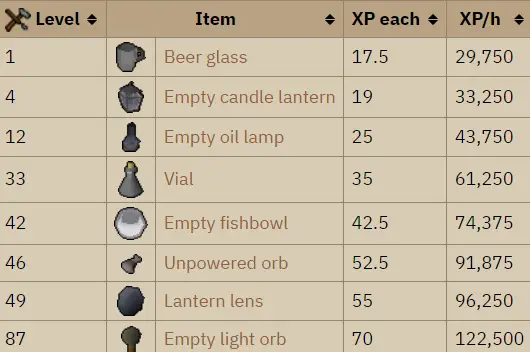 Casting Superglass Make: level 61 – 99
Players can expect to gain between 110k and 150k crafting experience with between 47k and 66k magic experience per hour using this method. It is beneficial as a means of training both crafting and magic.
However, players must have completed Lunar diplomacy to use the spell.
Cutting Amethyst: level 83 – 99
Crafting Amethyst ore into relevant ranging materials is often more cost efficient than even glassblowing. While also offering slightly higher experience rates at 165k per hour.